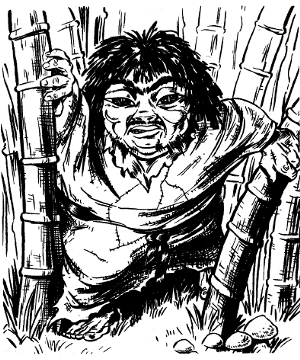 This is the closest thing that I could find in imagining what chougou would look like, he is an orphan runt of a dwarf-type so I'm assuming korobukuru and he was taken in by a shop keeper that kept him in the back of his shop doing various chores for him until he discovered that he had a penchant for machinery. The shop keeper exploited his labor and kept him chained to a desk where chougou was kept for 10+ years.
Chougou isn't his given name, if he ever had one, chou meaning ugly (丑) and gou meaning dog (狗); this is just what the shop keeper called him. He hasn't spoken much to anyone in his time being imprisoned, but has found ways to connect to the matrix in forums (lol, like this one I guess) and eventually will have been rescued from there or broken out, but I don't know how that will have happened yet as maybe it's part of the story?
Anyway he has a love of all things mechanical and uses them to escape the inabilities of his body and dreams of making a mechanical suit for himself one day and doing good in the world as he really is very sweet at heart (if not too deranged from loneliness) and is very excited to be involved in anything in the real world.
I have never made a proper Shadowrun character and would appreciate any advice anyone has on making his stats! Other than that looking forward to playing with you guys. This world is very detailed and interesting, well done to our benefactor.
Jesse